CUMMINS TO FEATURE EPA TIER 4 QSK38 CLEAN DIESEL ENGINE
20 November 2017
CHARLESTON, S.C. - Cummins Inc. (NYSE: CMI) announced the new U.S. Environmental Protection Agency (EPA) Tier 4 solution for its marine QSK38 engine with cleaner emissions and improved warranty.
The QSK38 is being paired with the industry-leading Selective Catalytic Reduction (SCR) system designed and manufactured by Cummins Emission Solutions. Engines will be available in 2019 for marine customers operating in the U.S. offshore oil and gas, commercial transport, passenger transport and commercial fishing industries.
Cummins engines have used SCR technology since 2006 and there are now more than one million units in the field.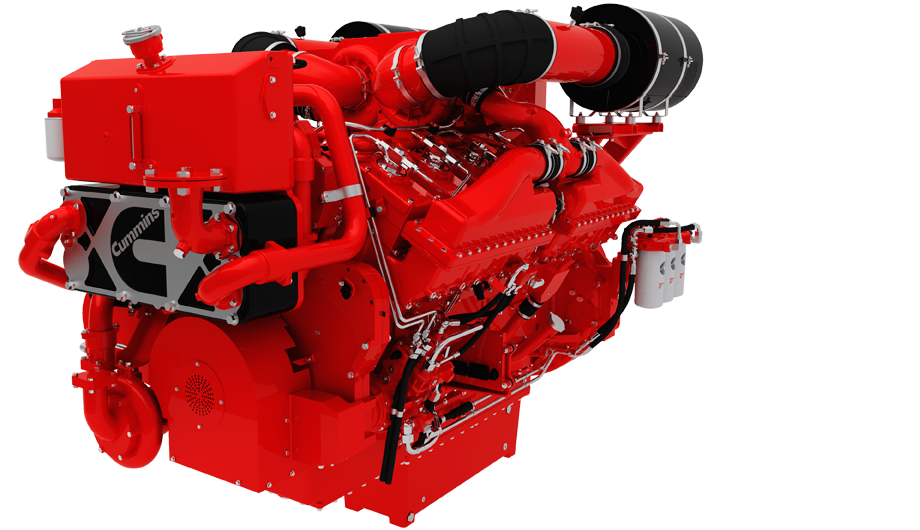 Image courtesy of Cummins
"Cummins mission is about making lives better by powering a more prosperous world and that means improving the environment and delivering the best products that our customers can rely on for work and play," said Jim Schacht, Executive Director - Cummins Global Marine Business. "We know marine customers want the best value, quality and environmentally-friendly power solutions and that is what Cummins is firmly focused on bringing to them. We are thrilled to bring a proven technology to the marine market that embodies our mission and values. We have more than ten years of experience integrating SCR technology in both on-highway and off-highway equipment, which enable this clean and efficient technology to be brought to our customers seamlessly."
Cummins new Tier 4 marine QSK38 engine comes with detailed installation directions and flexible SCR arrangements, which removes complexity while saving time and reducing costs on every project. Sensors located in the SCR can monitor the system performance, enabling precise injections of urea to neutralize the emissions. By monitoring the data and appropriately injecting urea, Cummins system ensures there is no waste, contributing another cost savings for the customer.
Warranty terms for Cummins marine engines have recently seen an increase in coverage periods. These periods vary depending on the engine family and rating. The base warranty for marine engines 19 to 60 liters in a heavy-duty or medium continuous-duty rating has been extended 1,000 hours beyond the previous term, while intermittent-duty coverage for the same engine range has extended 1,500 additional hours. The calendar restriction on warranty will remain at one year for Cummins engines installed in revenue-generating vessels. Cummins continues to offer optional Encompass, which can provide an additional three years/10,000 hours of coverage to the engine. Regardless of hours, the warranty is honored for 12 months.
"The QSK38 is a proven leader in the inland waterways, now with lower emissions and extended warranty coverage matched with the same world-class service and support. We are excited to continue the engines' legacy," Schacht continued.
Complex, global marine projects require collaborations across state lines, country boundaries and time zones. Six hundred Cummins-owned and independent distributors are strategically placed all over the globe to support customers' needs providing a single source for sales and service.
QSK38 for Marine
746-1044 kW | 1000-1400 hp
Building on the KTA38's reputation hard earned on the U.S. inland rivers
Designed to withstand the challenging conditions commercial marine operators often face; this same reliable, durable power is now available for recreational boating applications, including super yachts and yacht support vessels
Improved idle stability and reduced noise and vibration are a direct result of the Cummins Modular Common Rail fuel system
In-cylinder technology to meet IMO Tier II, EPA Tier 3 and EU Stg. 3a; platform for future emissions in the U.S. and globally Covered by a comprehensive one year warranty and backed by Cummins global service network
Built at Daventry Engine Plant in Daventry, U.K.
About Cummins Inc.
Cummins Inc., a global power leader, is a corporation of complementary business units that design, manufacture, distribute and service diesel and natural gas engines and related technologies, including fuel systems, controls, air handling, filtration, emission solutions and electrical power generation systems. Headquartered in Columbus, Indiana (USA), Cummins currently employs approximately 55,400 people worldwide, and serves customers in approximately 190 countries and territories through a network of approximately 600 company-owned and independent distributor locations and approximately 7,400 dealer locations. Cummins earned $1.39 billion on sales of $17.5 billion in 2016.