Caterpillar C7.1 Propulsion Engine
The quick-starting, low-maintenance marine propulsion engine
20 July 2017
Half the weight of a two-stroke diesel engine of comparable power, the Cat® C7.1 Propulsion Engine burns significantly less fuel and virtually no engine oil at all. It's the ideal engine for repowering smaller vessels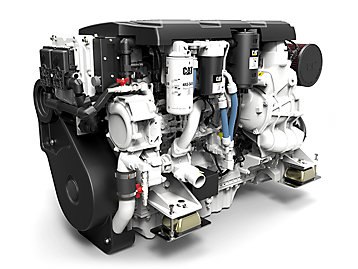 What makes the C7.1 engine an exciting new offering?
The Cat C7.1 Propulsion Engine is a very powerful engine for its weight - 500 horsepower at 1,675 lbs. It's an extremely low maintenance engine, with no sacrificial zinc anodes. Should you accidentally run out of fuel, you don't have to prime the engine. Just turn on the key switch and it will start up quickly - no questions asked.
How does it provide quicker acceleration?
With the C7.1 engine, you can get it up to its rated speed (2,900 RPMs) very quickly with a single, high-performance turbocharger. It offers great accelerationat all speeds, particularly when getting on plane from idle.
How does it offer quiet operation?
Offering multiple injections per cycle, the common rail fuel system ensures that this is an extremely quiet engine. The reduced noise is very noticeable. If conventional fuel injection is compared to striking the piston with a metal hammer, the C7.1's common rail system is like using a rubber mallet. It's the same force, only considerably quieter.
What else do you gain with an engine this quiet?
Now, you can easily have conversations at a normal level in the cockpit or saloon. You no longer have to shout. Plus, the engine doesn't emit soot and leaves no residue. Overall, there's less maintenance required with this engine.
This engine has a smaller footprint. How does that enhance power and service ability?
The C7.1 is an ideal replacement for a Cat 3208 engine. If you repower the 3208 at 435 bhp @ 2800 RPM with the C7.1 500 bhp @ 2900 RPM, you can achieve 15% more power with 18% lower weight. This will translate into higher top end speed and significantly better holeshot performance, but with comparable fuel consumption.
Overall, you're going to have less of a need for service with this engine. You'll have a maintenance-free valve train with hydraulic lash adjusters. With the automatic belt tensioner, you'll never have to adjust tension. Plus, the gear-driven water pumps provide greater durability and reliability over competing products.
Is this engine ideal for both the leisure and performance workboat sectors?
The C7.1 is perfect for pleasure craft yacht, and fishing boats 28 to 60 feet in length. This November, Caterpillar'll have a commercial launch for workboats, likely in the range of 280 to 425 horsepower. That engine will be geared toward small tugboats, fleeting towboats, pilot boats, small ferries, small fishing boats and lobster boats.
How does this engine affect the environment?
The common rail fuel system is U.S. EPA Tier 3-compatible, while ensuring smoke-free operation.
What is significant about the fuel priming pump?
There's no longer a need to open vent screws, crack injector nuts, operate a hand-priming pump and engage the starter, which may spill fuel all over the engine room. Rather, if you run out of fuel, all that's required to bleed the fuel system is to turn the key switch to the "run" position. Wait a few moments, and then engage the starter. The engine will matter-of-factly start right up.
What is unique about the charge air cooler?
Like other areas of the C7.1 engine, it's easy to service. It's simple to remove and access the internal componentry as the tube bundle is easily removed at the back of the engine. This simplifies and expedites routine service and inspection on this critical component.
How does the Cat C7.1 engine stack up against competing products?
In this power node, there are a few competitors out there but none of them can match the Caterpillar service network. It's one of our biggest attributes. You can buy a boat in North Carolina and run it to Costa Rica and you're never going to be far from a highly qualified marine dealer. With Caterpillar, you'll receive a consistent dealer experience just about anywhere you are in the world. And that makes a big difference.
What else makes the Cat engine valuable?
To simplify ordering, the C7.1 can be ordered by your Cat dealer coupled with a ZF transmission directly from the factory. Many ratios are available so we can offer our customers a complete propulsion solution.
Are there service/support packages that one can purchase with this engine?
Caterpillar provides one of the strongest service packages in the industry. When the C7.1 is purchased new from your local Cat dealer, up to five years of Extended Service Coverage (ESC) is available. After the initial five years have elapsed, five additional years of ESC can be purchased once the engines have passed a dealer inspection.
Ultimately, your C7.1 can be covered for up to a decade. Should you elect to overhaul your engine at the end of those ten years, an additional five years can be added to that using our Overhaul Protection Coverage (OPC) plan.
What else is noteworthy about this engine?
One of the best selling points of the C7.1 Propulsion Engine is that it makes a terrific fit if you're repowering an older boat. You can drop in this lighter and more fuel-efficient engine and significantly revitalize your existing vessel.